WET SKIN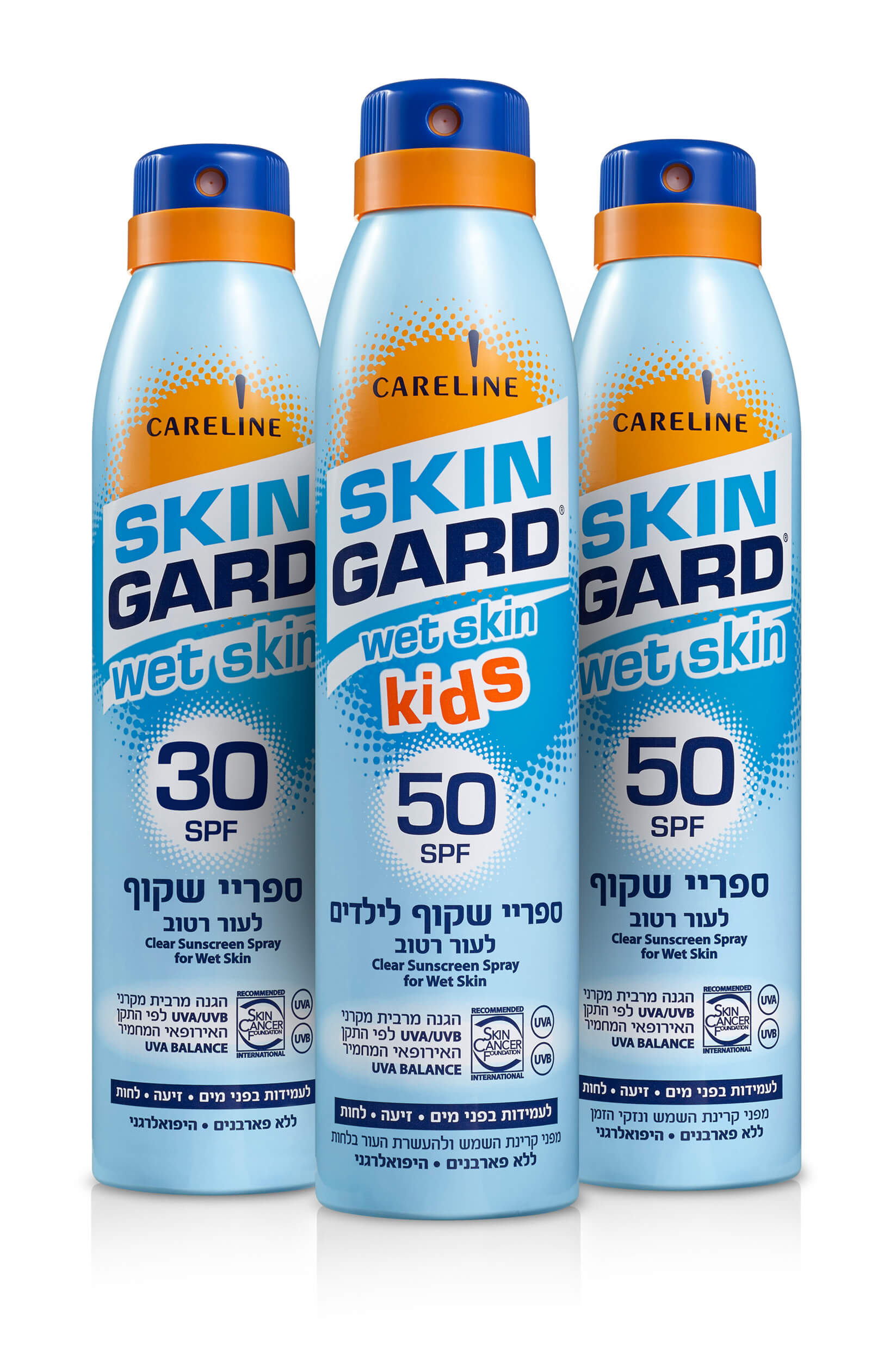 A line of sun protection products for wet skin
Available exclusively in Israel!!
Skin Gard, the leading brand in sun care and protection, is launching the Wet Skin line.
Groundbreaking technology which allows protection from the sun for skin that is wet from pool water, sea and ocean water or for perspiring skin from physical activity.
The new Wet Skin line is based on the innovative 'Wet Skin System' technology, containing the unique, waterproof Dermacryl-79™ polymer which forms a protective layer on the skin, even when it's wet, allowing the sunscreen to linger and continue protecting the skin.
The Invisible spray sunscreen is tailored for wet skin, providing a range of unique, essential solutions for the summer:
Effective sunscreen with powerful levels of protection – SPF 30/50.
The Invisible spray doesn't leave a white cast on the skin, it's non-sticky and dries within seconds.
Resistant to pool water, sea and ocean water, as well as perspiration, and is also durable in high moisture conditions.
Hypoallergenic and suitable for the sensitive skin of children.
Gives a refreshing sensation and is delicately fragranced.
Paraben-free.
The new Wet Skin line allows for maximal coping with sun exposure, as well as facilitates smart sun protection consumer behavior, at the pool or at the beach:
No need to rely on the initial sunscreen application, which is mostly done at home, but allows for easy reapplying during the activity.
There's no need to run after and persuade your kids to dry off and reapply sunscreen and then wait for it to absorb. This sunscreen is applied to wet skin, during the activity.
Easy applying, leaves no white cast; perfect for using during summer activities, whether at the pool, the beach or anywhere else.
WET SKIN - Invisible spray for wet skin protection